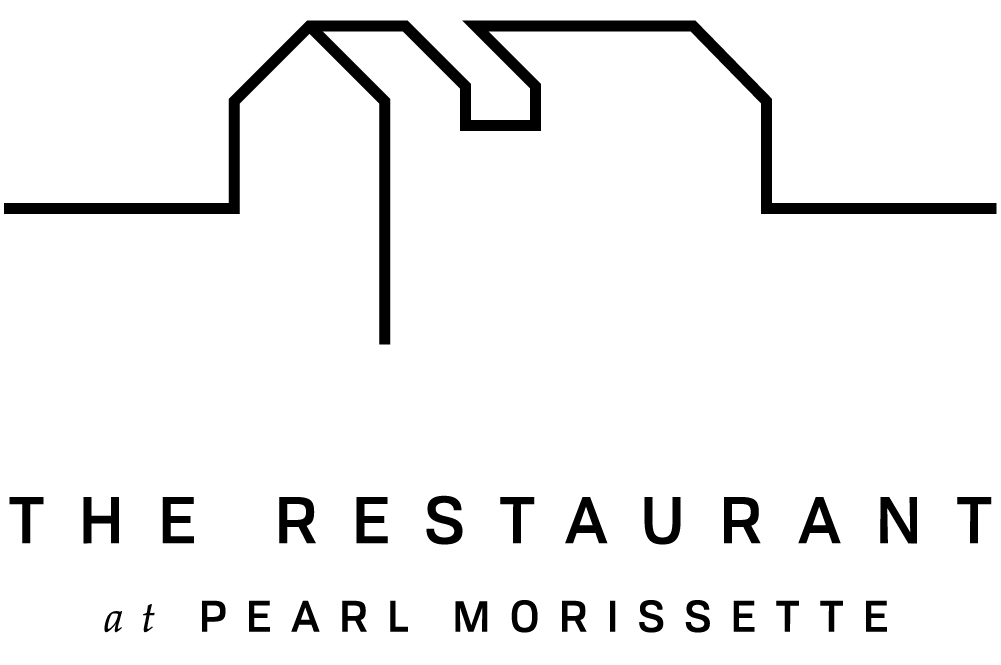 A Message from our Restaurant Staff:
During these trying times, we are doing our best to support our community and farmers. Our restaurant is providing a delivery service in Niagara and Hamilton for meat, eggs, and prepared foods sourced from all of the organic farmers we regularly work with. Email the restaurant to inquire about a price list and more details and subscribe here to our newsletter to stay up to date with the latest happenings at our restaurant & farm.
3953 Jordan Rd, Jordan Station, ON L0R 1S0
Dinner Thursday to Sunday 6-9:30pm
-
Lunch Saturday and Sunday 12-1pm
F.A.Q.
What can I expect when dining at The Restaurant at Pearl Morissette?
We serve an ever changing multi-course menu of the best ingredients of our region inspired by seasonal French cooking.
We offer one set menu of 8+ courses at $110 per person daily. In order to provide our guests with a curated experience from start to finish, we do not offer an a la carte menu. We're happy to accommodate dietary restrictions and allergies, simply include these details when booking your reservation.We are grateful for as much notice as possible when it comes to menu amendments.
Please note that our prices are all-inclusive. Our staff is delighted to provide service and hospitality without the need for you to tip. This is a departure from the old way of doing things, and we value your feedback. Hospitality is a team sport, and by choosing to dine with us you are helping our whole team to flourish. For that we are grateful.
Apart from Pearl Morissette wines, will there be options from other producers available?
Yes! The wine list at The Restaurant is meant to represent a highly selective list of producers who all follow similar principles as Pearl Morissette. The list offers wines of distinction often produced with minimal intervention, and always reflective of the place they were grown and the people who made them. We are also proud to offer access to a library of our own wines only available through the restaurant.
Low intervention producers and seasonal products are our mainstays.
What if my guests would prefer not to drink wine?
In addition to wine, the bar is also stocked with a selection of beers and fruit based spirits of comparable quality to our wines, designed to complement the food menu. We believe in the craftsmanship behind these products and would prefer not to alter them; cocktails are not on offer for this reason.
The restaurant will have a selection of non-alcoholic beverages on hand, made with the same care as the food and using the same regional ingredients.
How do I buy Pearl Morissette wines?
The winery does not have a retail shop or tasting room. Please be advised that as of July 7th 2018, the winery will no longer be holding tasting appointments as the vast majority of the wines are currently sold-out and allocated. For more information, please contact the winery directly:[email protected].
PLEASE NOTE: During harvest (September/October/November) there is a lot of activity in the winery.Please refrain from approaching the production area as it is hazardous to distract workers. We appreciate your understanding.
How accessible is the space?
Please note that we regretfully are not barrier-free accessible at this time as we are located on the second floor of a barn. There are two sets of stairs with a total of 28 steps and a handrail, and no elevator. Please feel free tocall usprior to your visit if you require special access.
When can I visit the restaurant?
It is preferable that guests book reservations ahead of time. You can book a reservation through the mainlinkon our website. We are currently capping reservations to groups of 6.Anything above this number will require a buyout of the space.
Hours of operation:
Lunch: Sat. and Sun.
12:00pm to 1:00pm
Dinner: Thurs. - Sun.
6:00pm to 9:30pm
How can I reach the restaurant?
The restaurant is located on the grounds of Pearl Morissette. To reach the restaurant by car, please see some helpful driving directions below. To reach the restaurant by transit, you may book a bus to St. Catharines, Ontario, and complete your journey by taxi or uber. Unfortunately there is no transit line that will take you directly to the property.
Should an emergency arise and you are not able to drive your vehicle off the property we do provide an emergency car service to transport guests, available upon request. Please note this service does not run frequently and it is always more convenient to arrange your own travel.
Driving Directions:
From the Queen Elizabeth Way (QEW) (via Toronto)
Take the Gardiner Expressway West towards Niagara Falls
Keep left at the fork to continue on the Queen Elizabeth Way, follow signs for Niagara/East Hamilton/Fort Erie
Take exit 55 toward Regional Road 26/Jordan Road
Turn left onto Bayview Blvd
Turn right at the 1st cross street onto Jordan Rd/Regional Rd 26
Drive 2.6km, until you reach the big, red cardinal (a large sculpture that guards the driveway) and turn left off Jordan road.
From the Queen Elizabeth Way (QEW) (via Niagara Falls)
Take Niagara Veterans Memorial HWY and follow signs towards the QEW
Follow QEW/Queen Elizabeth Way to St. Catharines.
Take exit 55 toward Regional Road 26/Jordan Road
Turn left onto Bayview Blvd
Turn left at the 1st cross street onto Jordan Rd/Regional Rd 26
Drive 2.6km, until you reach the big, red cardinal (a large sculpture that guards the driveway) and turn left off Jordan road.
Transit
The bus station is located at 62-66 Carlisle St, downtown St. Catharines, while the train station is located at 5 Great Western St. The property is roughly a 15-20 min. taxi ride from each terminal.
*Trains run infrequently between Toronto and St. Catharines, so please be mindful when booking your trips. You may choose to arrive via Burlington, ON.
Taxi
Central Taxi: T 905-685-7343
Parking
Parking is available for free on the property, located beside the main restaurant building.
Are there accommodations available nearby?
Yes! We recommend the following locations:
3845 Main St, Jordan Station, ON L0R 1S0
1776 Fourth Ave, St. Catharines, ON L2R 6P9
3953 Jordan Road, Jordan, Ontario, Canada, L0R 1S0